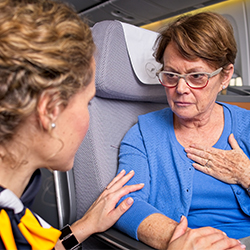 ECG on board? Be prepared during an in-flight medical emergency
Suffering a heart attack on board an airplane is probably every traveller's worst nightmare. Unlike suffering an infarction on ground, there is usually no qualified personnel that can swiftly treat the infarction. Furthermore, the necessary equipment to even detect the infarction is also not readily available. However, it is precisely this knowledge which can save lives if the next medical facility is 3,000 feet below.
Cardiovascular complaints are the leading cause of medical incidents on board. Even though most airlines have an emergency kit on board, a mobile ECG system for diagnosing heart attacks is only rarely available. However, groundbreaking changes are now emerging in this area. Lufthansa is the first airline in the world to equip all its long-haul flights with CardioSecur. The flight attendant can record a clinical-grade 12-lead ECG swiftly and without prior training and then transmit it to the medical hotline of "International SOS" (ISOS). ISOS evaluates the ECG and advises the crew on board on the basis of this data. The cockpit crew then has to make the final decision on whether it is necessary to divert the plane. If there is a doctor among the passengers on board, then they can use the expert mode in the app to monitor the heart activity.
Those who have already suffered a heart attack or fear a cardiac infarction on board a flight due to pre-existing conditions can take the initiative themselves with CardioSecur Active. As it is small, compact and weighs only 50 grams, it is perfectly suited for on-board luggage. What is more, the app together with the smartphone is very easy to use and records a clinical-grade 15-lead ECG in just 30 seconds. Particularly life-threatening cardiovascular conditions and complex arrhythmias can be recorded and diagnosed with this device. Another important factor is that CardioSecur immediately provides feedback based on the ECG reading. On the basis of the results, an emergency landing can be initiated in consultation with the pilot and the flight crew. After all, in cardiac infarctions every second counts to save lives.
Discover how you can use CardioSecur as your personal on-board luggage, on the go and at home: