Flexible use - whether on home visits or in the practice
On-call duty always has to be fast. On home visits, diagnostics must be simple and the ECG machine must be light. In the doctor's office , the workflow must be designed effectively. In addition, the data should be easily transferable to the practice database. The devices for measuring ECGs must meet very different requirements. The CardioSecur technology enables precise resting ECGs to be recorded at any time and any place. The doctor is enabled to perform professional diagnostics even when on call and during home visits, regardless of the treatment room. Whether the localisation of complex arrhythmias or the detection of anterior, lateral and posterior myocardial infarctions - the 360° view of the heart provides the physician with analysis options that are unique in the world.
CardioSecur makes ECG recording easy:
1
Apply the 4 electrodes to the patient
2
Start the ECG recording
3
Receive the ECG report (Popup)
We have already optimised our daily work in the office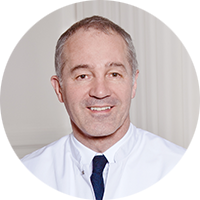 Prof. Dr. med. Herbert Schuster
Internal Medicine - Medical Genetics
General Practitioner Care
Berlin
"CardioSecur's reports provide me with all the ECG data I need to diagnose my patients and adjust their therapy. I can see their ECGs any time without the patient having to come to my office every time."