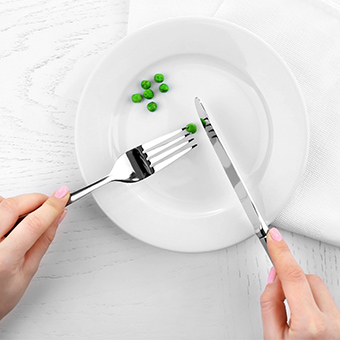 Decreased heart function: Caution with crash diets
For many people, mostly overweight, the desire to lose as much weight as possible in the shortest possible time is often the reason for dieting. So-called crash or flash diets promise quick success here, in which the daily calorie intake is radically reduced to up to 500 calories per day, and this over several days or even weeks. However, this form of weight loss is also highly controversial. This is because the diet is usually very one-sided during the diet, and there is also often the threat of the famous yo-yo effect after the diet. And as cardiologists at Oxford University have now discovered, crash diets can even lead to a temporary reduction in heart function.
Study on 21 overweight subjects: Crash diet worsens heart function
Specifically, the study examined the effects of a low-calorie diet on heart function as well as fat distribution, which was measured by means of an MRI in 21 overweight volunteers. The study participants ate only 600 to 800 kcal per day for eight weeks. After just one week, the body fat of the study participants decreased by six percent, visceral fat by 11 percent and liver fat by 42 percent. Insulin resistance, glucose and blood pressure also improved in the subjects. The heart fat content, on the other hand, increased by 44 percent within only one week, which led to a deterioration in heart function. In addition, the increased fat content of the heart led to a reduction in diastolic function parameters.
Heart fat content stabilised again in the course of the diet
In the further course of the crash diet, however, the fat content of the heart was significantly reduced again in the participants of the study and the heart function also normalised. The researchers explained the temporary deterioration in heart function and the significant increase in heart fat content by the fact that the sudden reduction in calories mobilised fat from all organs of the body, released it into the blood and absorbed it by the heart.
Crash diet for people with heart problems
As a result of the study, especially people with heart problems (heart failure, risk of cardiac arrhythmia) or a high risk of heart attack should definitely talk to their doctor before starting a diet, because under certain circumstances this (diet) can make the patient's condition even worse. The doctor will then decide whether a diet should actually be followed and can also monitor it in individual cases.
Find out here how to turn your smartphone into a mobile and personalised ECG in just three steps.