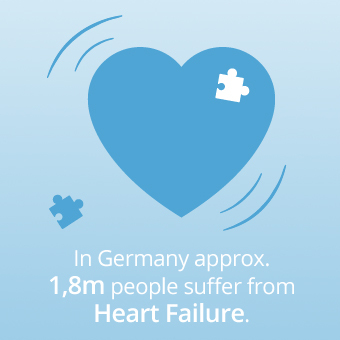 After surviving a heart attack, you are at risk of heart failure.
After surviving a heart attack, the shock often follows: the diagnosis of chronic heart failure. In Germany alone, according to the German Heart Foundation, an estimated 1.8 million people suffer from heart failure, which is one of the most frequent causes of death.

How does heart failure develop?

Chronic heart failure is caused, for example, by coronary heart disease (CHD) or a heart attack. This can damage the heart and severely weaken its pumping capacity. As a result, the body does not receive enough blood, oxygen and nutrients. Depending on the severity and type of heart failure, different symptoms occur, such as fatigue, reduced performance and/or fluid retention in the lungs or legs.

What can you do to reduce the risk of heart failure?

The extent of heart damage after a heart attack is crucial for the development of chronic heart failure. By recognising circulatory problems early and acting quickly in the event of a heart attack, you can prevent greater heart damage. Perform a well-founded ECG measurement already during the onset of symptoms. Make sure that the mobile ECG solution can detect not only rhythm and frequency, but above all life-threatening circulatory disorders such as a heart attack. Only ECG systems with 12 channels or more can do this.1

Furthermore, it is important to avoid the typical risk factors for a heart attack from the outset. Therefore, pay attention to a healthy lifestyle:

- Eat a healthy and balanced diet

- Avoid nicotine

- Drink alcoholic beverages in moderation

- Exercise regularly, preferably for 30 minutes a day.

- Keep your weight within a normal range

- Avoid permanent stress

- Check your blood pressure

- Watch your cholesterol levels

The combination of a healthy lifestyle and regular heart checks will give you a good long-term prognosis. You can find more tips for a healthy lifestyle in the following articles on our site.

1: European Society of Cardiology: www.escardio.org