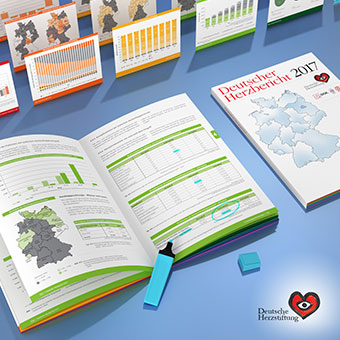 2017 German Heart Report: Increased mortality rate from cardiac diseases
Germany is no doubt a country with some of the best medical care in the world. The combination of a large number of general practitioners with many hospitals in metropolitan areas typically ensures rapid care in an emergency situation.
However, what applies to emergencies is not always carried over to preventative medicine. The 2017 German Heart Report published earlier this year showed this to be true—last year, the number of deaths due to cardiac diseases increased. In 2015 alone, 175,644 individuals died due to the consequences of coronary heart disease and heart failure, 9,927 more than in 2014 (165,717). What is also interesting, is the fact that overall more women than men die due to cardiac diseases. The report also showed that coronary heart disease and heart insufficiency (heart failure) have a large influence on mortality rate in all states.
Heart insufficiency has become a widespread disease but could be significantly reduced via preventative measures such as early diagnosis, treatment, and avoidance of risk factors.
The German Heart Report named timely blood pressure and pulse measurement as particularly important preventative measures. However, patients should not rely only on these methods, as a heart can be healthy despite high blood pressure and heart rate has little informative value alone.
A timely ECG recording can provide greater diagnostic accuracy regarding heart health than both of the above-mentioned methods. Thanks to mobile ECG devices such as CardioSecur Active, this can now be achieved anytime and anywhere, while still maintaining clinical quality. All this with low costs and the possibility to receive immediate feedback to know if medical attention is necessary or not.
Learn more about CardioSecur Active here.
More about the mortality rate distribution among states, underlying diseases, and detailed information about various preventive measures you can take can be found in the German Heart Foundation's Online Press Release.
Copyright und Bildquelle: Deutscher Herzbericht 2017/Deutsche Herzstiftung (Hg.)