Brugada syndrome is a rare genetic cardiac disease, named after the Brugada brothers who first described this syndrome in 1992. Many affected are initially thought to be healthy; often only after dying from or surviving a sudden cardiac arrest are individuals diagnosed with Brugada syndrome.
What are some symptoms of Brugada syndrome?
How is Brugada syndrome diagnosed?
How is Brugada syndrome treated?
What are some symptoms of Brugada syndrome?
The underlying cause of Brugada syndrome is a "sodium channelopathy" (a disturbance of the sodium ion channels in the cardiac muscle cells of the heart). Those affected therefore do not typically experience regular symptoms. Brugada syndrome is often first diagnosed when loss of consciousness (syncope) or sudden cardiac arrest (a still-stand of the heart) is present, triggered by a heart rhythm disorder such as polymorphic ventricular tachycardia or ventricular fibrillation. During ventricular fibrillation the heart beats too rapidly for blood to be pumped throughout the body, which can lead to cardiovascular failure and death if not quickly treated.
How is Brugada syndrome diagnosed?
An ECG is required to diagnosis Brugada syndrome. However, the typical ECG changes associated with this disorder are not always visible on a normal ECG. It is sometimes necessary to take a medication (i.e. Ajmalin) in order to make the ECG changes more pronounced. The risk of sudden death in both situations is equally high.
The distinguishing ECG features of Brugada syndrome are divided into three types:
Type I: "coved" configuration; ST segment elevation >2mm in >1 of leads V1-V3, followed by a negative T-wave
Type II: "saddle-back" configuration; >2mm J-point elevation and >1mm ST elevation, followed by a positive or biphasic T-wave
Type III: "coved" or "saddle-back" configuration; <2 mm J-point elevation and <1mm ST elevation, followed by a positive T-wave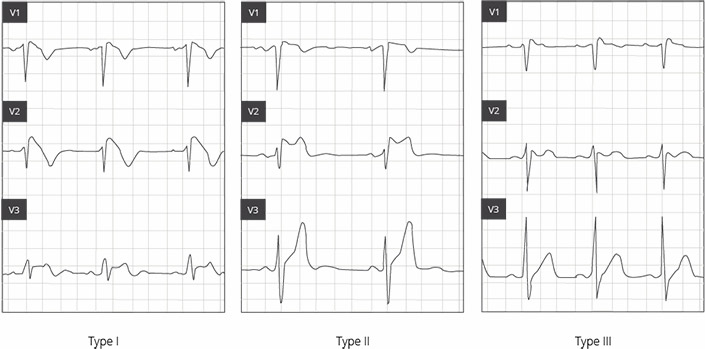 What causes Brugada syndrome?
A pathological change of the cardiac conduction system causes a heart rhythm disturbance. Most affected do not experience symptoms, while others suffer from sudden loss of consciousness or a cardiac still-stand. Sudden cardiac death can occur as early as in the teenage years. The cause of Brugada syndrome is most often due to a primarily electrical condition stemming from a mutation of the gene SCN51. Mutations of this gene lead to a disturbance in the sodium channel, causing dysregulation of the influx and efflux of sodium. This leads to a disturbance in the depolarization/repolarization of the cardiac cells, putting those affected at risk for an arrhythmia.
How is Brugada syndrome treated?
Brugada syndrome can, sooner or later, lead to Ventricular Fibrillation, which can only be treated with a defibrillator, applied externally or internally. A defibrillator is typically implanted in those who have already experienced fatal arrhythmias or loss of consciousness. The defibrillator monitors the heart's function and, when needed, automatically delivers a shock to return the heart's pump function to its normal state.
There are two main types of implantable cardioverter-defibrillators (ICD): transvenous and subcutaneous.
A transvenous ICD is a device approximately the size of a matchbox, which is implanted in the chest area, with a lead running through a vein to connect it with the internal heart. A subcutaneous ICD is implanted below the axilla (armpit) with the lead running under the skin along the sternum. It is also able to shock the heart when a life-threatening rhythm is detected, without any direct contact to the heart or blood vessels.
Those who suffer from Brugada Syndrome can be helped temporarily with medications. A few cases have also tried ablation of certain areas of the heart muscle in an attempt to avoid dangerous arrhythmias.