What causes ventricular hypertrophy?
Ventricular hypertrophy can have various causes. The most common causes are:
Ventricular hypertrophy due to intense sports activities (competitive sports)
Ventricular hypertrophy due to ventricular pressure overload (concentric hypertrophy)
Ventricular hypertrophy due to ventricular volume overload (eccentric hypertrophy) caused by valve insufficiency.
While an increase in cardiac muscle mass from competitive sports is often welcomed, ventricular hypertrophy as a result of increased ventricular pressure or volume load is problematic, and actually poses a serious health risk which can even lead to heart failure.
It is the left ventricle that is most commonly affected, less so the right ventricle. The hereditary form of ventricular hypertrophy, which is usually not caused by pressure overload, is, however, quite rare.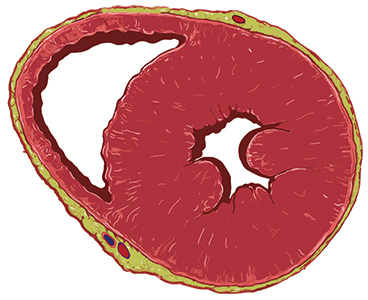 What are the symptoms of ventricular cardiac hypertrophy?
As the wall thickness of the left ventricle increases, it becomes stiffer, leading to reduced elasticity (so-called diastolic dysfunction). The first symptoms of a pathological thickening of the heart wall are usually reduced performance or shortness of breath, especially during strenuous physical exertion.
At a certain stage of the disease, when the "critical" level has been exceeded, affected individuals will often suffer from chest pain (angina pectoris), arrhythmia and dizziness or syncope. Other symptoms can include the need for frequent urination, chronic fatigue and swollen legs (edema).
As the disease progresses, the aforementioned symptoms can also occur during rest. Any form of physical activity becomes very strenuous and even painful for the person affected. At the same time, the longer the ventricular hypertrophy persists, the more they are at risk of suffering a heart attack.
How is ventricular hypertrophy diagnosed?
As ventricular hypertrophy can be fatal if it goes unrecognized, early diagnosis is extremely important. The most common way of diagnosing it is by performing an electrocardiogram (ECG) to detect patterns of abnormal function or increased heart mass. However, "milder forms" of ventricular hypertrophy may go undetected on an ECG reading.
The most important diagnostic method is a sonogram of the heart (echocardiography), as it will reveal any thickening that is typical for an enlarged heart muscle.
For diagnostic purposes, another alternative to the ECG is Magnetic Resonance Imaging (MRI).
Mobile ECG devices are now available on the market, which allow the user to record a prophylactic, personalized ECG on their own smartphone. They can even receive feedback on it from their family doctor.
Our mobile ECG helps you to keep an eye on your heart health. Learn more about how it works.
What is the treatment for ventricular hypertrophy?
Early detection is the key to effective treatment of ventricular hypertrophy. The aim of the treatment is to relieve the pressure on the heart, thus preventing progression of the disease.
This can be achieved through medication, for example with beta blockers and calcium channel blockers, which prevent further thickening of the heart muscle.
If this method of treatment does not produce the desired effect, surgical intervention is a possibility; this includes a surgical procedure to reduce the muscle thickening or new catheter technologies.
What needs to be considered during treatment?
Patients with well-controlled blood pressure, who are receiving treatment for diagnosed ventricular hypertrophy, should undergo annual check-ups involving an electrocardiogram, an exercise electrocardiogram, echocardiography or long-term ECG monitoring.
Furthermore, physical exertion and extensive sports activities should be avoided. Moderate exercise, however, is certainly recommended and beneficial, but should be discussed in advance with the patient's doctor.
Should symptoms become more prominent, diagnostic investigation should be expanded accordingly.
Our mobile ECG helps you to keep an eye on your heart health. Learn more about how it works.