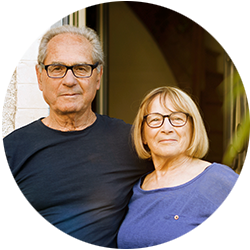 "We wanted to have a possibility to check our hearts whenever we want."
"As I already have a blood pressure monitor and wanted to learn more about my heart health, I was looking for an ECG device for me and my wife. I was particularly looking for a device that could be used with my smartphone, as I was sure that a mobile, easy-to-use solution was available. In my online research I ultimately found CardioSecur Active. We were positively surprised by how much information one can receive about his/her heart from an ECG. My wife and I both have healthy hearts; however, we wanted to have the possibility to check our hearts whenever we want. The heart is ultimately the motor of the body and therefore its most important organ. We both performed our reference ECG with the cardiologist Dr. Kister in Düsseldorf, to whom we can now always send our ECGs.
The user interface of the app is intuitively designed and easy to use. The ECGs can be performed instantly (takes 30 seconds) and in any location. The device also provides a recommendation to act and the ECG can be sent to our physician in PDF format. Additionally, one can call ones physician or a saved trusted contact directly from the app. All readings are saved in the heart diary. All in all it is a wonderful thing!
We are glad to have found a solution for our hearts, and are happy with its uncomplicated use and the possibility to connect with our physician."
If you order CardioSecur Active for you and your loved ones, you now get the second device for free!
Keep your cardiac risk, whether from increasing age or a familial predisposition, in check.