ECG technology Made in Germany
ü 12-lead ECG with only 4 electrodes

ü Unrivalled electrode placement reproducibility

ü Clinically proven the fastest and most intuitive ECG system

ü High-tech ultra-lightweight ECG cable for iOS devices

ü Full 12 lead recording (I, II, III, aVR, aVL, aVF, V1-V6)

ü Individual settings for ECG speed, voltage and filters

ü Seamless data integration and export options
The CardioSecur Pro technology with only 4 electrodes is only 50g light and clinically proven to be the easiest to use 12+ lead ECG system in the world. By means of its few electrodes which are placed in very marked spots of the body, CardioSecur ensures high electrode position reproducibility, mitigation of lead-misplacement and a timesaving ECG recording process. In conjunction with its intuitive app guidance CardioSecur Pro is also the only 12+ lead ECG system requiring no training.
*Product not available in the US
ECG in 3 steps
1
Apply electrodes
2
Perform ECG measurement
3
ECG report received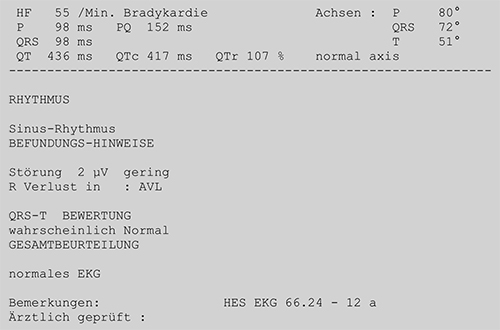 The accurate and reliable analysis and interpretation of 12-lead ECG data is crucial to use the time during medical examinations effectively. The automatic ECG interpretation uses the internationally evaluated HES-algorithm and also includes the paramater measurement of all common ECG segments.

The ECG parameter measurement enables you to automatically determine all common ECG segments (HF, Axes, P, PR, QRS, QTc and QTr). It is based on the licensed HES-algorithm.