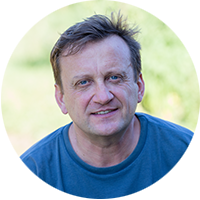 "I must definitely prevent another heart attack!"
"I had my first heart attack when I was 51 years old. At the time, I felt a sharp pain in my chest together with pressure and difficulty breathing. Luckily, I received help from a doctor within minutes, and my heart therefore did not suffer additional damage. Everything seemed to be under control thanks to regular medications.
I was thereby even more shocked when, two years after the first infarction, I had a second. I was unsure what it was, as this time it felt totally different than before. I was incredibly tired for a long period of time. But I didn't think anything of it. I did not even think of a heart attack, partly because I felt safe due to the medications I was taking. Luck was on my side again. It was a positive coincidence that a physician was nearby and helped me once again receive timely help.
Of course, I now worry that it could happen a third time. And I no longer want to rely only on medications.
I started using CardioSecur a few months ago. I can now record an ECG when symptoms first occur, no matter where I am, and know what to do. I have also learned more about possible symptoms of a heart attack so that I can be as best prepared as possible. Together, this gives me reassurance that was missing before".
Avoid additional damage following a heart attack by performing regular checks.