Whether as a preventative measure for your heart health, to explain unclear symptoms, or to monitor a known diagnosis, CardioSecur is your perfect companion.
Why is prevention important?
The risk of a heart attack commonly increases with age or due to familial predisposition. If a heart attack is acute, help often comes too late. It is therefore important to monitor your heart with regular checks. You can thereby detect early changes and treat them quickly. In the worst-case situation, you can even prevent heart damage. This protects your heart.
Furthermore, the fitter your heart muscle is, the better you can prevent cardiovascular disease. Frequent movement and exercise train and strengthen the heart. CardioSecur is the perfect companion to perform a heart check before and after exercising. Gain reassurance knowing if your heart is okay.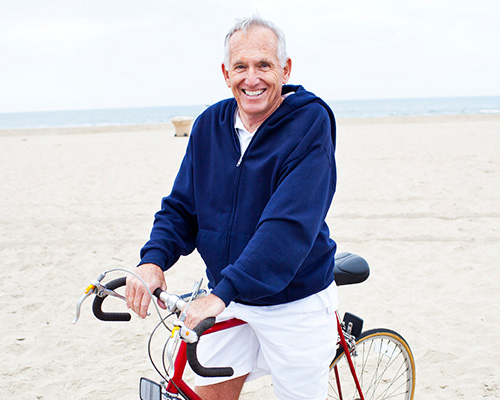 Frequent movement and exercise train
and strengthen the heart
Receive clarity about your symptoms
The intensity of symptoms does not always give an indication of the severity of the cardiac event. By the time one sees a doctor, symptoms are usually gone. It is then very difficult for your physician to make a diagnosis. Maybe you have already even had multiple doctor's visits, unfortunately always leaving without a diagnosis. Exact answers about the cause of your symptoms can be best obtained by recording a clinical, multi-lead ECG when symptoms are present.
CardioSecur's personalized 15-lead ECG can be used with your smartphone anytime and anywhere. You receive an immediate recommendation to act after each reading and therefore know if you need to seek medical attention or not.
You can also make the profound ECG data from this exact moment available to your physician. He can use the CardioSecur ECG to diagnose the exact cause of your symptoms and initiate effective therapy.
Avoid further heart damage from an infarct
A heart attack most often occurs unexpectedly and may present with an array of symptoms. Receiving treatment within the first 60 minutes is critical to avoid serious damage to the heart.
Utilize CardioSecur when symptoms are present easily and quickly. CardioSecur provides you with an immediate recommendation to act after each ECG reading to know if you should seek medical attention or not. You thereby save precious time. CardioSecur can also recognize posterior and anterior wall infarcts.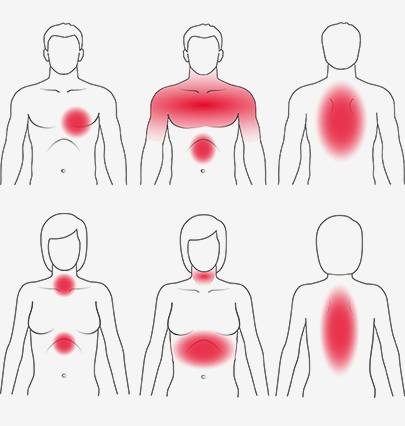 Typical symptoms of a heart attack
Have you been successfully treated for an arrhythmia?
If you have already received treatment for an arrhythmia, e.g. atrial fibrillation, uncertainty often remains if the treatment was successful. Approximately 1/3 of individuals with atrial fibrillation experience a relapse of atrial arrhythmia within one year following an ablation1.
If symptoms recur, the feeling that the treatment was not totally successful often arises. You should record an ECG at the time your symptoms occur so that you can show it to your physician.
If you have asymptomatic atrial fibrillation, it is important for you to perform regular ECG checks, even when you are not experiencing symptoms.
Only with a multi-lead ECG such as CardioSecur (15 leads) can recurrent complex arrhythmias be recognized and even localized. CardioSecur is personalized and shows you all of your ECG changes. Your physician can therefore accordingly adjust your treatment.
1. Aarbelo E, Brugade J, Blomstrom C, et al. Contemporary management of patients undergoing atrial fibrillation ablation: in-hospital and 1-year follow-up findings from the ESC-EHRA atrial fibrillation ablation long-term registry. [Published online January 18, 2017]. Eur Heart J. doi:10.1093/eurheartj/ehw564