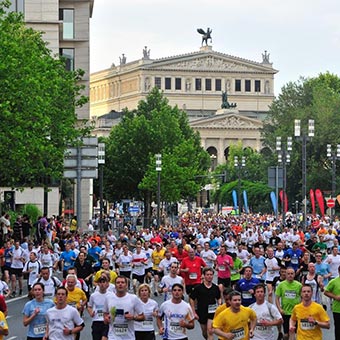 J.P. Morgan Corporate Challenge
June 7th, 2017
CardioSecur will be participating in the J.P. Morgan Corporate Challenge in Frankfurt on June 13th. This run is the largest corporate run in the world, and the largest run in all of Europe. This event takes place in seven cities in the United States, two cities in Europe (London and Frankfurt), Sydney (Australia), Singapore, Shanghai and Johannesburg (South Africa). In 2016, 68,119 runners from 2,633 companies participated in the Frankfurt race. 2017 will be the 25th year that this event has taken place.
The JP Morgan Corporate Challenge is a race that does not officially record time, thereby avoiding the pressure to perform. The course is 5.6 kilometres long, on which full-time employees of companies from various sectors participate. The race represents team spirit, fairness and health within the office, also encouraging communication. The participants design a special athletic shirt ahead of time, and get together after the race for team building.
The CardioSecur team has been training regularly in small groups to get stronger for the run. Our CardioSecur running shirts are on the printer and we are in the starting blocks waiting for June 13th!